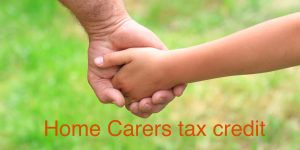 Millions of euros lost due to unclaimed home carers tax credit
Have you heard of the home carers tax credit? Due to a lack of public awareness there are millions of euros that go unclaimed each and every year in Ireland. The vast majority of people believe it applies to carers who provide support and home care to elderley or disabled patients. This is a misunderstanding however. The credit is intended for people who work from home and care for one or more dependants, in a marriage or civil partnership.
Assessment for home carers tax credit
The married couple, or civil partners are jointly assessed for tax. The home carers tax credit can be applied when a spouse or civil partner works in the home, caring for one or more dependants. This includes a child or an elderly relative.
Part time work
The home carer can earn up to €7,200 within the year. They still qualify for the home carers tax credit so having a part time job does not immediately disqualify individuals from applying for this tax credit. A reduced tax credit is available for individuals who's annual earnings are up to €9,400.
Tax return
Most people don't think they are entitled to a return but the truth is 8 out of 10 people are not claiming back all of their entitlements from Revenue. We are happy to provide a free check to look into your unclaimed tax. Click Here to get in touch with us today and see if you have money waiting for you. Our average return is €885 and its No Return = No Fee with Taxpro.ie But don't take our word for it. We are big on customer service and our client Reviews on Google are a great source of pride for us. If you have any questions we would be delighted to hear from you. Call, text or email, we don't mind how you contact us.